Worldwide spending on cloud infrastructure is accelerating faster than total IT spending growth. But committing to an investment isn't enough. To get the most from a service such as Azure IaaS (Infrastructure-as-a-service), you need to understand the specific ways it can benefit your business.
A lot of companies will move their existing infrastructure to Azure without a long-term strategy in mind. More often than not, this approach ends in a poorly optimised environment that is expensive to run and doesn't make the most of cloud's flexibility.
So, what's the alternative?
To answer this, let's first look at what Azure IaaS is and what it isn't.
What is Azure IaaS?
Azure IaaS is an instant computing infrastructure accessed over the web. As a public cloud service, Microsoft provides collective IT resources to multiple clients on a per-use basis.
It's not the same as colocation, where your company typically provides the servers and storage in a rented facility. With Azure IaaS, you can build and expand your IT infrastructure on-demand, only paying for the services you use.
Five ways to get the most from Azure IaaS
If you move to the cloud without a game plan, you're unlikely to win new business. Taking the time to identify what you need from Azure IaaS is the best way forward.
1. Optimise storage
Using the cloud purely as a storage locker is often a costly strategy. While there are no upfront costs to pay, you will incur a monthly fee for the storage space you acquire. Collectively, companies waste £48 billion a year on cloud services they don't need.
To get the most from Azure storage, its worth considering the amount and type of storage you're using. Smaller companies will benefit from moving all their data into the cloud, while larger businesses (think terabytes) might be better off keeping the majority of their data on-premise.
2. Prepare for peak demand
The cloud is ideal for companies whose on-premise datacentre is nearing capacity. With the right hybrid strategy, your business can deploy cloud servers to handle periods of peak demand in a process known as 'cloud bursting'.
Businesses that experience seasonal fluctuations in their workloads will particularly benefit from this method. The retail industry is a great example of this because most business happens within a six week window. With Azure IaaS, there is no interruption of service between on-premise servers and the public cloud, making it easy to accommodate spikes in traffic.
3. Take advantage of Big Data analytics
By 2020, 67 percent of business are expected to adopt big data analytics. In Azure, you can take advantage of built-in Big Data analytics tools to get more from your company data.
These tools integrate with storage services such as Azure Blob Storage to offer powerful insight into your data and allow you to share it easily across your entire company. Azure IaaS provides the economic processing power to make this possible, saving you the cost of building an entire Big Data infrastructure on-premise.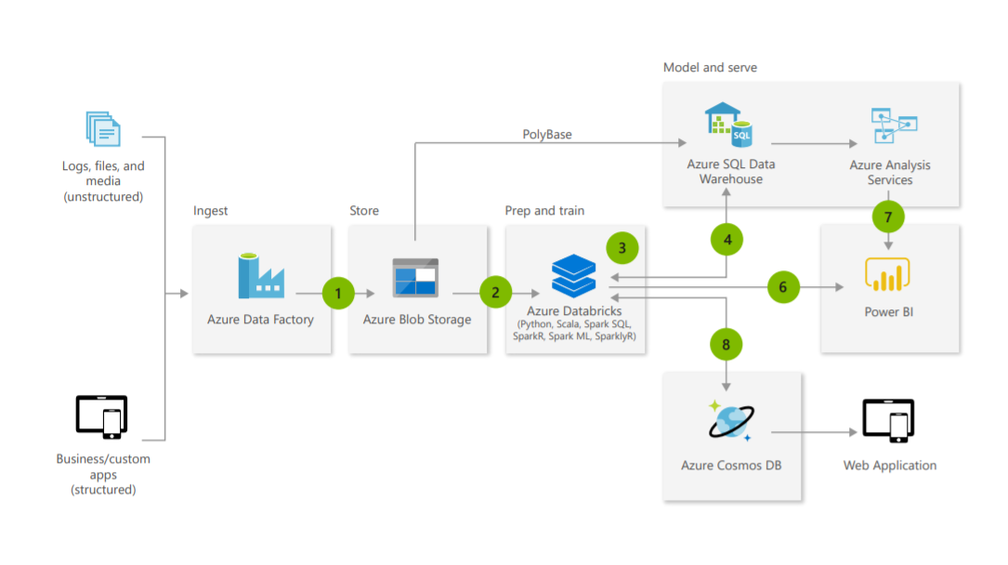 (Source: Microsoft Azure)
4. Assure business continuity
Around 90 percent of businesses experience unexpected downtime, with 50 percent of these losing critical data as a result. For this reason, the cloud is beneficial if you're looking for an easy way to backup and recover your data.
With Azure IaaS, you can eliminate the cost of building a secondary datacentre and still invest in secure disaster recovery. Backing up your current system takes hours rather than weeks and you can recover everything in a matter of minutes.
5. Champion flexible development and testing
In some cases, you'll only need your Azure infrastructure for a short period of time. A prime example of this is development and testing (dev-test).
In this scenario, you only want to pay for temporary use, avoiding the hardware cost that comes with a new server or application. Azure IaaS enables you to provision a new virtual machine in minutes, so your developers can work on their latest project quickly and efficiently, without worrying about datacentre maintenance.
Great infrastructure needs a great architect
You wouldn't build a house without a blueprint. So, why move to the cloud without a clear sense of what you want to achieve?
While infrastructure-as-a-service offers you the building blocks to faster, more flexible services, without the right architect, you won't get the most out of your new environment. Optimisation should form the cornerstone of your cloud strategy, not only preventing overspending, but providing you with the tools to explore, innovate and succeed.
To discover what Azure IaaS can do for your business, get in touch with one of our cloud experts today.