57 percent of UK business IT decision makers believe the General Data Protection Regulation (GDPR) is positive for consumers, but troublesome for organisations.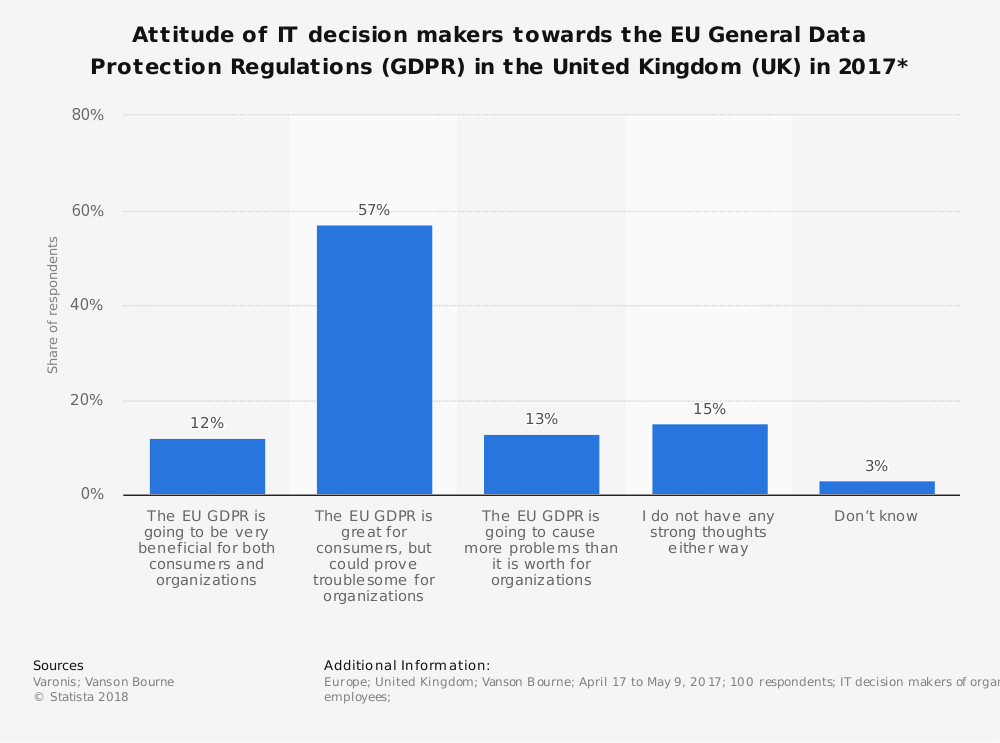 57 percent of IT decision makers state 'The EU GDPR is great for consumers, but could prove troublesome for organisations.
When it comes to GDPR compliance, having good intentions will only get you so far. To overcome the potential pitfalls of the GDPR and ensure your business is miles ahead of the competition, you need to invest in the data compliance software.
And that's exactly what Microsoft has done, designing its cloud platform, Azure, with regulatory compliance in mind. So, with the GDPR changing the game for thousands of small businesses, let's take a look at four essential Azure tools that will help you stay ahead of the pack.
GDPR survial kit: 4 regulatory compliance tools
1. Compliance Manager
A huge 50 percent of IT decision makers state 'recording of processing activities' as one of the biggest challenges of GDPR compliance.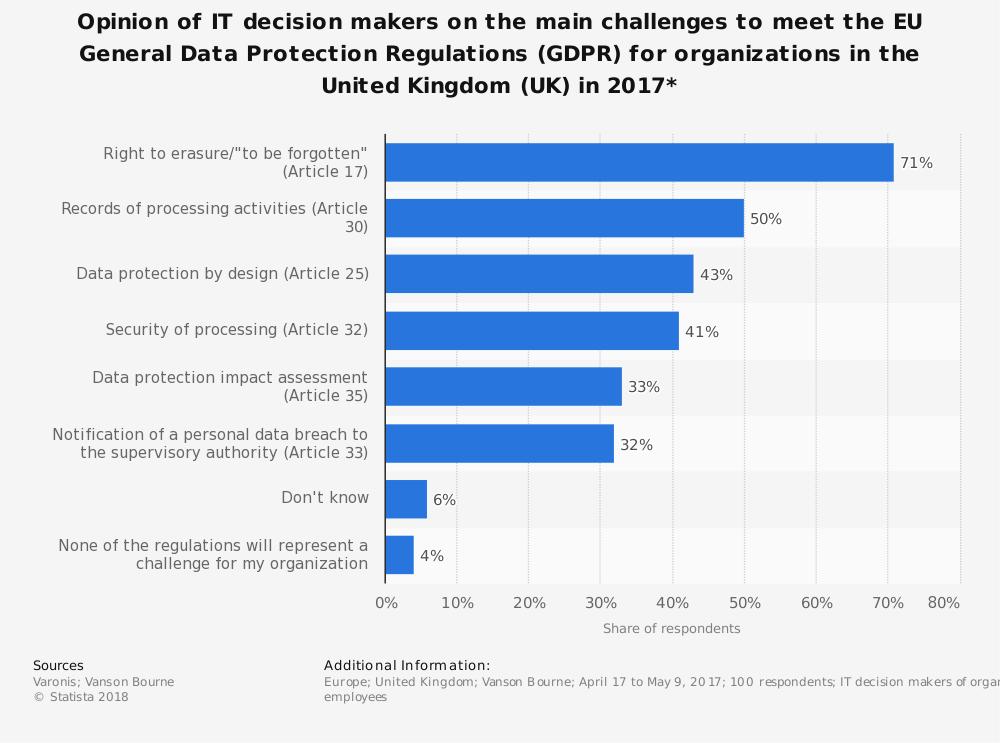 50 percent of IT decision makers believe 'records of processing activities' rate as one of the biggest GDPR challenges
Fortunately, Azure's Compliance Manager (a.k.a 'the fastest way to streamline your organisation's compliance process'), is a brilliant regulatory compliance tool for recording and managing your GDPR journey.
This tool helps you track, assign and record your compliance efforts, allowing you to overcome GDPR hurdles and ensure you're following the right path. Any records you store in the repository can also be used as documentation for GDPR officials, should you they ever come knocking.
Additionally, Compliance Manager provides you with a handy 'compliance score', helping your organisation prioritise your GDPR efforts and enable consistent benchmarking for continuous security improvement.
2. Security and Compliance Centre
Under GDPR legislation, your business must invest in privacy by design. Azure's Security and Compliance centre can provide you with the tools needed to keep your data away from prying hands. The compliance software can detect and report a data breach within 72 hours, making it easier to:
- Analyse your assets thoroughly and reporting of any suspicious activity or threat.
-Identify attack patterns and predicting breaches before they happen.
-Streamline security and data audits.
-Help you understand your data processes better and collect information quicker
What's more, a similar trust centre has been built into Office 365. This compliance and security function ensures you have the transparency, privacy control and reassurance you need to keep your data safe.
3. Azure Information Protection
Ensuring the data you collect, process and share is protected throughout its journey is vital to achieving GDPR compliance. Fortunately, Azure Information Protection has made the process of securing your data much easier by:
- Classifying and labelling based on sensitivity. For example, you can monitor personal or financial data more closely than less critical information.
- Tracking your data and how it's being used. This means you can revoke access if an employee is managing data inappropriately.
- Helping your data remain 'portable' by allowing you to share data with colleagues and (consented) third parties with ease.
- Protecting your data no matter where it's stored, both on-premises and in the cloud.
4. Azure Backup
To help strengthen your data security and ensure you're prepared if a data breach does occur, it's critical your business invests in a backup plan. Azure offers backup-as-a-service, helping you cut costs by picking and choosing which data you want to duplicate.
Although this regulatory compliance tool automatically backs up your data to the Azure cloud, your business still holds the reins. With unlimited data transfer, you can shift data backwards and forwards in response to access requests or deletion requirements. Furthermore, any data you store within an Azure Backup is encrypted, making it far harder for hackers to gain intelligible access.
Compliance software in the cloud: Azure is a sure choice
Despite all of its benefits, GDPR compliance is an overwhelming task for many organisations. However, there's still time to invest in the right compliance software and change the way your business processes data.
Microsoft Azure's suite of tools is built with GDPR in mind, and, as a result, we believe it's a sure choice for any business wanting to move data away from leaky, on-premises systems.
Get in touch today to discover how Microsoft Azure can protect your business and keep you on the right side of the EU's new data protection laws.