Data Loss Prevention (DLP) is a strategy for making sure that end users do not send any sensitive or critical information outside the corporate network.
DLP in Office 365 helps you identify, monitor and protect sensitive information in your organisation through accurate content analysis measures. DLP is increasingly important for enterprise level messaging systems, because business-critical email often includes sensitive data which needs sufficient protection to prevent any sensitive data being leaked to the wrong person.
DLP Policy Tips is supported only in Outlook 2013, but even if your users don't have the latest version of Outlook, you are still protected from disclosing sensitive data through back-end processing. Using DLP Policy Tips in Office 365, admins can inform email senders that they may be about to pass on sensitive information that is detected by the company's policies before they press Send. This helps your organisation stay compliant and it educates your employees at the same time.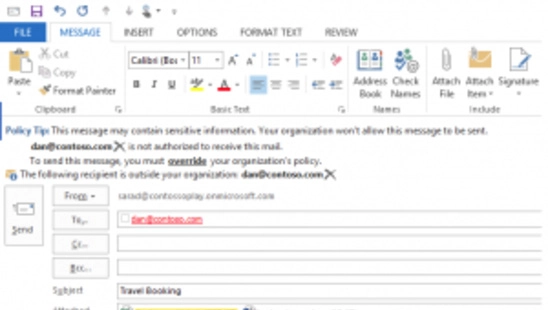 Policy Tips not only analyse email messages for sensitive content, but also determines whether information is sensitive in the context of communication. That means you can target specific scenarios that you associate with risk and avoid them turning in to a problem for the organisation. For example, the below picture shows an internal policy to warn its employees any time they include sensitive information like a credit card number in email communications. Reading those custom policy tips in email messages keeps your workers aware of your organisation's compliance policies and empowers them to act on them.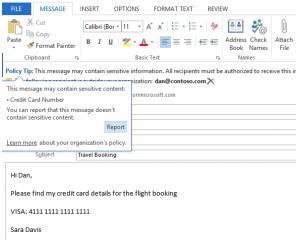 To find out more about DLP and Office 365, get in contact with one of our specialists on 020 8987 1150.