Are you investing in the best Microsoft technologies?
A comprehensive digital transformation strategy can increase an enterprise's cash-flow margin from 25 percent of revenue to 48 percent, according to McKinsey.
Statistics also reveal the digital transformation global market is booming, as businesses from all industries begin to invest in IoT solutions, analytics software and cloud computing.

But, with so many IT technologies flooding the market, it can be hard to know which the best fit for your business is. What should you be including in your technology roadmap?
In our short guide to building the ideal technology roadmap, we list five of the most beneficial Microsoft technologies and how they can help transform your business.
1. Microsoft 365
Microsoft 365 offers a perfect starting point for all companies looking to plot their IT roadmap. Consisting of three main pillars in Office 365, Enterprise Mobility + Security (EMS) and Windows 10, Microsoft 365 offers all the features of Office 365 with the additional piece of mind security offered by EMS and Windows 10.
Microsoft 365 can therefore offer any business, looking to start their IT transformation the perfect starting point. Others who have already decided to opt for Office 365, can add EMS and Windows 10 to bolster security, whilst not compromising their ability to communicate, collaborate and create.
Combining beloved Microsoft apps, such as Outlook, Exchange and OneDrive, Office 365 is head and shoulders above its competitors, holding a massive 36 percent of the market share.
This suite is perfect for digital transformation strategies, as it supports remote work initiatives and BYOD policies with a host of cloud-based communication and collaboration tools.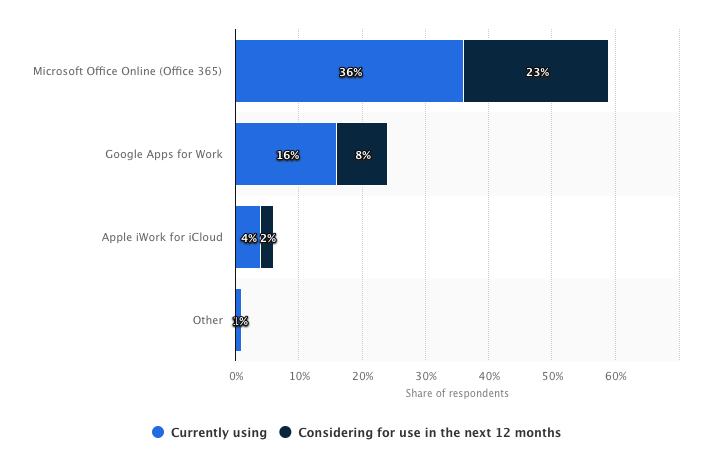 Key benefits
- Advanced

security

features of EMS and Windows 10 make it easier to manage

and monitor security threats

.

Including Microsoft Advanced Threat Analytics, Advanced Threat Protection (ATP)

and

Multi-factor Authentication

you can rest easy, knowing your files won't end up in the wrong hands. However even if a device is lost or stolen, Microsoft 365 has layered security to ensure that devices can be wiped of important data through BitLocker Drive Encryption.


- Innovative communication applications such as

Skype for business

,

Yammer

and

Sway

streamline

collaboration

and simplify the way departments interact.




- Highly-accessible

data monitoring

and analysis tools

enable more accurate, data-driven decisions.
2. Dynamics 365
Dynamics 365 is one of the leading CRM softwares on the market, with 22 percent of the global market share.
As a customer-focused Microsoft technology, it helps companies personalise relationships and predict customer needs.
The suite is an all-in-one business management solution, ideal for enterprises wanting to streamline their sales processes. Using the flexibility of the Microsoft cloud, it enables users to combine processes and data from anywhere in the world.
(Graph shows Microsoft Dynamics global market share)
Key benefits
- User friendly interface: Users can quickly familiarise themselves with the software, so very little training is needed.
- Aids communication from vendor to vendor,

preventing mistakes and misunderstandings

.

- Promotes productivity by

empowering employees

with the insights they need to make better business decisions.

3. Cortana Intelligence Suite
To stay ahead of competition, businesses must invest in advanced analytics and predictive modelling software. In fact, 36 percent of IT decision makers feel predictive analytics is now the most important area for investment.
As a fully-managed Big Data and advanced analytics toolset, Cortana Intelligence Suite helps businesses to turn their data into valuable, actionable business insights and predictive forecasts. The suite features a diverse set of analytical tools to help businesses simplify, accelerate and reduce the cost of their data-driven workloads.
Key benefits
- Transform data into engaging, highly

accessible visualisations

- Collect and analyse

vast amounts of data

to better understand your business

- Gather insight

and

predict outcomes

with

Machine Learning Studio
4. Power BI
Data analysis is now considered one of the most integral parts of running a competitive modern business. However, a bank of data is useless unless you have the power to understand it and share these insights with your employees.
Power BI is an essential Microsoft technology, as it simplifies the analysis process and helps users share their insights in visual reports, making it easier to justify business-driven efforts.
Key benefits
- Integrates easily with tools like Excel, on-premise data sources and cloud services.

- Allows you to drill down into your data, enabling better understanding of your customers.

- Aids mobile working conditions

: Power BI is accessible on a

range of devices.
5. Azure IoT Suite
The global IoT market is growing rapidly, with its value set to reach £241 billion in the next five years. Why? Because IoT solutions can aid all areas of business development - from creating safer payment transactions to improving customer service.
IoT is revolutionising the business world and should be considered a fundamental area for investment.
With Microsoft Azure's IoT suite, your business can create highly scalable IoT solutions and optimise key operations. A successful IoT network can enhance your operational productivity, allowing you to analyse real-time device data and improve industrial inefficiencies.

(Graph shows global IoT market)
Key benefits
- Build IoT applications in hours

without needing to hire specialised talent.

- Collect

,

manage

and

analyse

masses of data with your own connected device.

- Fully flexible and

easily integrated

with your current system - installation is fast and simple.
Building the ideal IT roadmap
Of course, there are many more Microsoft technologies to aid your digital transformation journey. But these five stand out for their ability to turn seemingly innocuous data into game-changing business insights.
However, to really feel the full benefit of investing in new technology, you need to consider how it will fit into your business:
- Does it easily integrate with your existing system?
- Is it accessible or will it require some additional employee training?

- Does it improve

productivity

, efficiency or expenditure?
Ask yourself these questions before rushing into any quick fix solutions. After all, revolutionary technology needs revolutionary management.
To find out more about building an effective IT transformation roadmap, check out our quick-fire guide.