One of the topics we are most commonly asked about is the difference between the Office 365 plans. Aside from the monthly price, there are a multitude of different features which separate Business Premium from Office 365 E5. However, at first glance it can be difficult to establish what exactly sets them apart.
In this blog we're going to try to answer a few common queries and offer some guidance at the same time, so you can make the best decision for your business.
First things first, what is Office 365?
Before we dive in, let's discuss what an Office 365 plan actually is.
In a sentence: Office 365 is a suite of productivity tools that will help your organisation work collaboratively, create more efficient processes and do more with its time.
These productivity tools include Microsoft Office Online, which gives you the latest version of:
- Word

- Excel

- PowerPoint

- OneNote
You can use these applications on any device offline and then upload your changes to Office 365 once you have an internet connection.
Outlook is also included as the email client in most Office 365 plans, and Office 365 email gives you 50Gb of mailbox space with an additional 120Gb of online archiving, along with the latest security features such as permission setting and encryption.
You also get access to Microsoft's Skype for Business telephony, on top of OneDrive storage space, meaning that you have lots of useful tools at your fingertips.
However, there is more to Office 365 than just productivity gains, and this is where the variances in plans are important.
Choosing the right plan
There are many different enterprise plans available, each with unique capabilities, prices and intended use cases. For instance, as well as Business Premium and Office 365 E3 there is also:
- Microsoft 365 E5: Includes all E3 products and features, plus the latest advanced threat protection, security and collaboration tools
- Microsoft 365 F1: Which is purpose-built to connect First-line Workers to the tools and resources needed to do their best work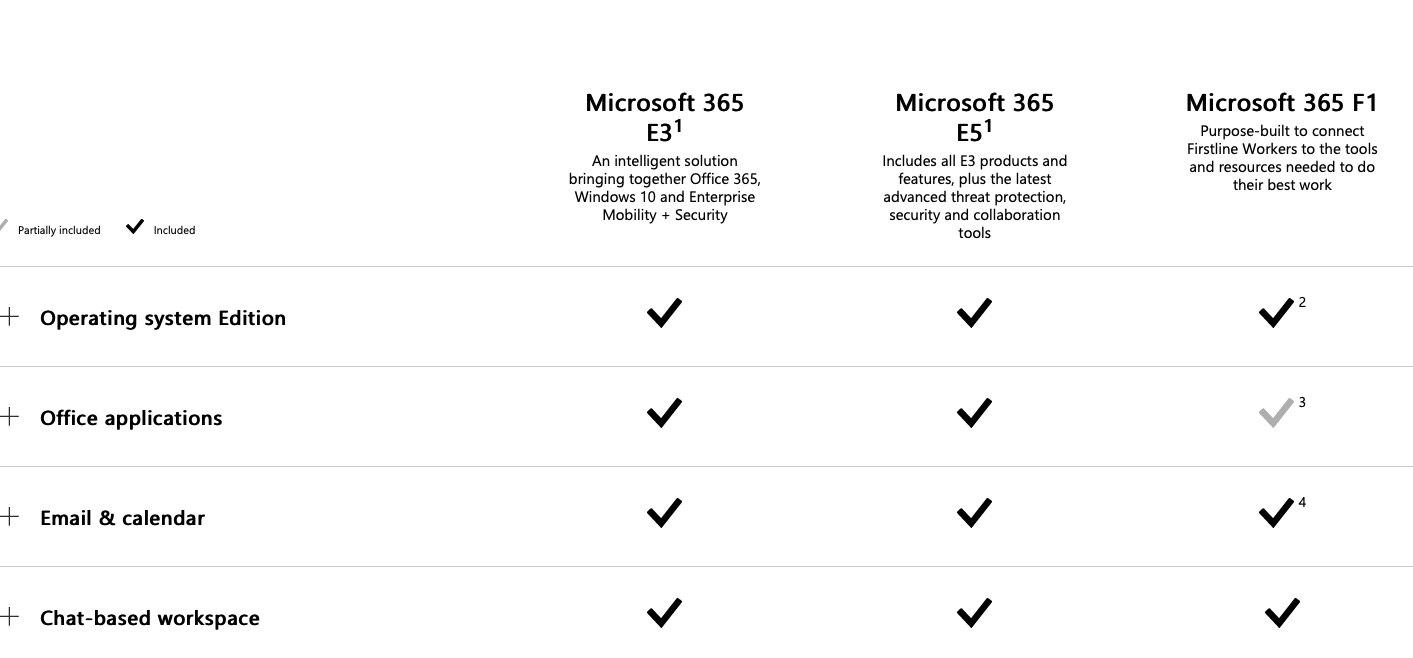 (Source: Microsoft)
For a full side by side comparison of these plans, check out Microsoft's comparison guide here.
The most popular Office 365 plan for SMEs is Business Premium. The majority of key features are available in the plan, and at just £7.80 per user per month, it tends to be cost effective too.
However, rather than jumping on the Business Premium bandwagon, we advise you take the time to evaluate each plan and make a decision based on your business goals.
The downside to going premium
While Business Premium is a popular and cost-effective option, there are downsides, and it's worth considering whether these will impact your business.
There is a 300 seat limit on Business Premium, so any organisation with more than 300 people will have to consider different options – either a combination of plans for their users, which in our experience is not successful, or an upgrade to the Enterprise Office 365 plans.
In addition, Business Premium users will often miss out on the most useful Office 365 features, as these are exclusive to the Enterprise plans. The Azure Rights Management security feature of the Enterprise E3 plan is crucially absent from the Business plans. Azure Rights Management not only protects you when communicating with internal users and external Office 365 users, but it also adds a layer of protection when emailing or collaborating with those using a product other than Office 365.
(Source: Microsoft)
Why we choose Office 365 E3
Though both plans seem very similar at first glance, when you get down to the nitty gritty, Office 365 E3 offers users a better service.
For example:
E3 users receive a fuller Office experience, as Office 365 ProPlus helps them meet compliance demands and gives them the reporting functionality to track where they fall short of regulations.
Other applications such as the Office 365 Video Portal are only available in the Enterprise range. Power BI, while standard in E5 plans, can also be added to E3 plans to improve the reporting process for any organisation.


While both plans come with Exchange online, Office 365 E3 is equipped with Exchange plan 2, meaning users benefit from unlimited storage.


You can use Office 365 E3 licenses in a hybrid environment. This gives you access to Exchange and Sharepoint both on-premises and online, unlike Business Premium users.

Office 365 E3 users have access to 24/7 support. By contrast, Business Premium users only receive critical issue support.

While both plans come with Excel, Office 365 E3's version is better set up for complex data analysis and is a better fit for advanced Excel users.
A plan that fits like a glove
Just because something is popular doesn't mean it's any good - just look at Coldplay. When it comes to sourcing and investing in enterprise tools, such Office 365, don't just go with the crowd. It pays to weigh up your options.

Before you make a commitment, consider:
- Which applications each plan has as standard and which ones are added extras.

- Whether your plan allows you to work on and offline.

- Whether your plan has enough seats for a company-wide rollout.

- What storage capabilities are available.

- If your plan offers your business the right security and protection.

- What kind of support package you'll receive.

While we're firm fans of Office 365 E3 due to its enhanced capabilities, make sure to check out Microsoft's full list of offerings in order to make the best choice for your business.

Want to find out more about the factors you need to consider when moving your small business to Office 365? Click the link below to download our comprehensive Office 365 migration checklist.
Editor's note: This post was originally published February 2017, but has been updated with more in-depth information.