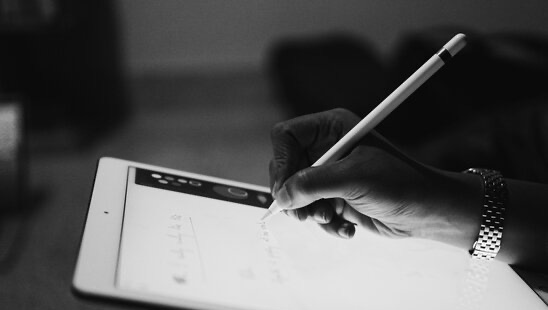 "The traditional office is no longer the most productive environment for today's workforce"
Rich Ellis, director of Microsoft's Office Division in the UK.
Say goodbye to the dated structures of the past: the traditional workplace is officially dying. Gone are the days of chaining ourselves to our desks from 9-5, measuring our productivity by the number of hours we put in.
As more and more companies commit to workplace transformation strategies, they're stepping away from rigid working practices and building modern workspaces that can keep pace with their evolving needs.
Through the use of innovative tools and technology, we now have the ability to work where we want, communicate with who we want and expand our talent pool beyond the boundaries of our local area.
To help you create your own modern workplace blueprint, let's take a look at four successful companies and the transformations they've undertaken.
4 workplace transformation examples to inspire your own
Due to the changing nature of the workforce, these companies have gone all out to ensure their staff have everything they need to thrive in the modern world of business.
Zipcar
Who are they?
Zipcar is one of the world's biggest ride-sharing services.
How have they built a modern workplace?
Zipcar moved away from their traditional desktop workspace in favour of mobile working.
Despite becoming a trailblazer in the sharing economy industry, the creators found that their desktop-based experience no longer reflected the modern user or their company culture.
In a bid to modernise, Zipcar did something drastic: they invited their staff to physically smash desktop computers as a symbol of their newfound digital workspace.
How is this innovative?
Agile working is becoming more and more popular in the UK. In fact, as of 2016, 3.25 million people now work flexi-time, and it's not hard to see why. Flexible work can improve: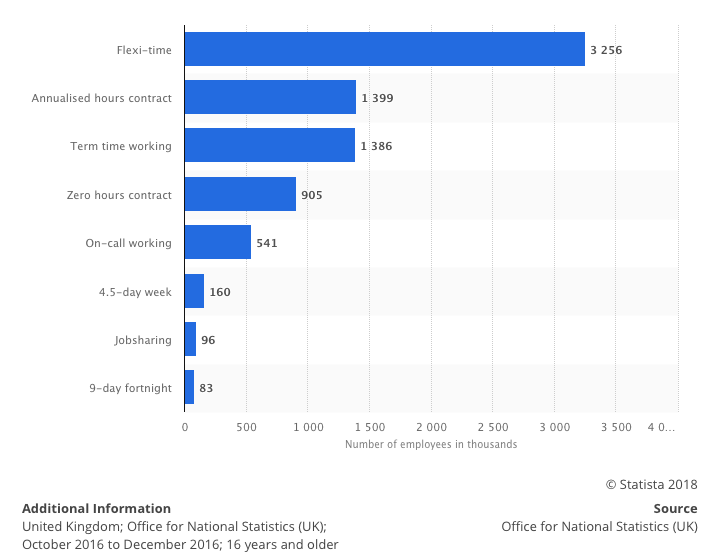 (The number of people working on flexible working contracts in the United Kingdom (UK) in the period October to December 2016)
By enabling their employees to step away from a traditional desk setup and embrace the benefits of a digital workspace, Zipcar gave their team the gift of agility. Their employees can now work from home, complete tasks on the move and step away from rigid working environments.
The UK Department for Work & Pensions (DWP)
Who are they?
The DWP is a public service department responsible for welfare, pensions and child maintenance policy.
How have they built a modern workplace?
To encourage internal innovation, the DWP launched a gamification platform. The goal of the game was to stimulate innovation by awarding points to users who submitted ideas that could improve working practises. Further points were given if they invested their time to develop these ideas.
The project was highly successful, generating 1400 ideas, of which many were implemented.
How is this innovative?
Lack of employee engagement is a growing problem in Europe. A 2016 survey found that just 58 percent of Europeans feel engaged at work. Compare this to an impressive 75 percent of Latin Americans, and we see that European companies need to work harder to engage their employees.
The DWP's gamification project is already eight years old. However, their efforts to ensure an engaging workplace transformation is a concept that's still ahead of its time.
KPMG
Who are they?
KPMG are a global professional service company and one of the Big Four auditors.


How have they built a modern workplace?
Like many innovative companies, KPMG understood the importance of catering to a millennial workforce. With this in mind, the company adopted a transparent communication policy, focused on building a social environment and implemented mentoring programmes.
How is this innovative?
Attracting and retaining millennial talent is a problem that reoccurs in many industries. However, it is particularly evident within the financial services sector. Only ten percent of millennials working in finance plan to stay in their current job.
By engaging in transparent communication and flexibility, KPMG now has a workforce that spans five generations, with the benefits of their workplace transformation attracting far more millennials to the field.
Unilever
Who are they?
Unilever
are a global consumer goods giant.
How have they built a modern workplace?
Unilever launched an interactive AI programme to help fine-tune their hiring process. Instead of submitting CVs and cover letters, candidates complete a series of neuroscience-based games to measure inherent traits. Successful candidates then participate in recorded interviews, which are analysed by machine learning algorithms.
How is this innovative?
The project gave Unilever its "most diverse class to date". It also slashed the hiring process from an average of four months to four weeks, saving a cumulative 50,000 hours of candidates and employee time.
By turning to a workplace transformation solution, Unilever has revolutionised its hiring process in a time-efficient, economic way.
Transforming the workplace: failure to change, failure to grow
Modern technology isn't just a tool for improvement: it's a tool for survival. Businesses cannot expect to grow if they fail to accommodate the values of the modern workplace.
With endless studies revealing the productivity and health benefits of a more digitally-supported workforce, it's time employers looked to technology in order to satisfy their employee needs.
To find out what you need to make true innovation a reality in your business, check out our roadmap to building the ultimate modern workplace. Get your workplace transformation underway today!